Antiques, Vintage Collectibles, New Die-cast Replicas and Toys
ZION ANTIQUE MALL & TOY MART
2754 Sheridan Road
Zion, IL 60099
847-731-2060
Established 1987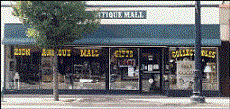 "ANTIQUES, COLLECTIBLES, VINTAGE FURNITURE, AND OLD AND NEW TOYS!"
We have been in the antique and collectible business since 1987 (over 28 years), always stressing quality, service and fair prices. This web site is now mobile friendly, for easier viewing on mobile devices. Some mobile device scrolling is necessary to see complete item descriptions and make PayPal purchases.
Have you ever planned a party and sent invitations to 50 people or more and had only a couple show up? Were you disappointed? We bet you were! We started this website in 1999 and for many years we had thousands of satisfied customers. Then a couple years ago Google decided if a website was not mobile friendly, they would not keep it in their top search pages, so we were demoted to oblivion.
But we are back and we are mobile friendly. We have thousands of items for sale in our brick and mortar mall, many of them true bargains. You can see some of them by clicking on the Virtual Tour link below. We want to show them all to you, but that takes a lot of time. We are not a huge business with a large staff, so we need your help.
After you have looked through the 250 or so toys in the Toy Mart, and nearly 100 Mall Items, if you did not see what you were looking for, there is a good chance we still may have it, but have not listed it on these pages yet. If you have a minute, please do us a favor and let us know what you are looking for. If we have it in the mall, the next time you visit this website (give us a couple days), you will find it listed.
In the meantime, since Google is taking a long time to refresh our pages, please share our website with your social media friends so we can get back to business as usual quicker and have faster turnover of items for sale. Many thanks in advance for doing this.
Virtual Tour of the Mall: When you are in the area (we are 50 miles North of Chicago), stop in and check out our wide variety of items. For a sampling of what you will find here, take the virtual tour.
Toy Mart: Check out the new fully assembled die-cast metal military aircraft, commercial buses, cars, fire trucks, commercial airplanes, trucks, tractor trailers, PCC streetcars and much more, for sale in the Toy Mart.
Mall Items For Sale: Don't forget to check out the list of mall items you can purchase today. We will be adding more items in the future, so bookmark the page and check back often.
Internet orders received by 2:00 PM on weekdays, ship the same day (except as noted). We accept PayPal online, Discover, MasterCard or Visa by phone, and Postal Money Order, Bank Check or Personal Check by mail, for USA destination orders. We accept verified International PayPal or International Postal Money Order for international destination orders. See the Ordering Information page for complete details.
Satisfaction is guaranteed on everything we sell or your money will be cheerfully refunded and WE GUARANTEE YOUR PRIVACY! Your e-mail address will never be sold or leased!
---